The Thinnest And Lightest
Oral B Sonic Toothbrush-
The Pulsonic Slim

The smallest Oral B sonic toothbrush is the Oral B Pulsonic Slim. This was introduced to the Oral B range a few years ago, and is ONLY available from Amazon in Europe, such as in the U.K., Spain and Germany.

Oral B says it discontinued the Pulsonic in 2014, and the brush heads in 2016, because it wanted to have a single product line of brush heads that would fit all it's models. BUT the Pulsonic is still available at Amazon (2021) so it looks like there is still some stock to get through!
There are 2 versions, the Pulsonic Slim 2000 at about EUR 70, and the Pulsonic Slim 4500 at around EUR 100+, both on Amazon.co.uk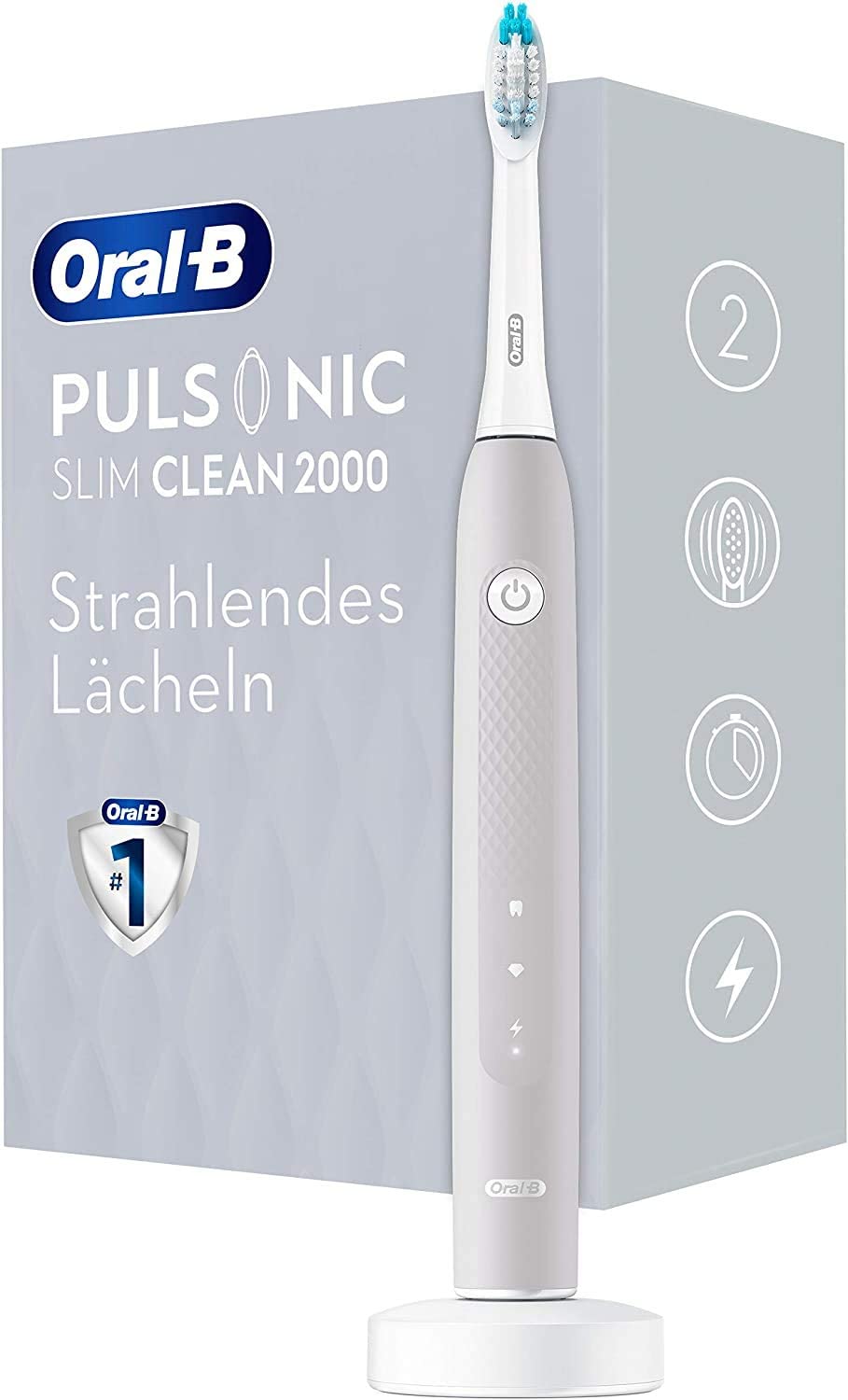 Pulsonic Slim 2000
The Pulsonic Slim 2000 is a simpler brush with slightly fewer options than the 4500, which includes a smart travel case.

Pulsonic Slim 4500
Some people see it as a reaction to the success of Sonicare. However Oral B hasn't just reacted - it has produced a remarkable sonic tooth brush that has several striking differences to its competitors.
As the name suggests, it is a sonic tooth brush. This means that the brush head bristles DO NOT rotate back-and-forth, NOR do they "wiggle" up and down. They simply "buzz"!
This brush is not as powerful as some other (more expensive) sonic toothbrushes, but is definitely up to the job. This is a relatively simple brush, with fewer features than some of its rivals.

Let's take a look at what makes the Pulsonic Slim sonic tooth brush different.
There are several features that differ significantly from other sonic toothbrushes!

It has an extremely slender handle, barely bigger than a manual brush. This is good if you have small hands. Those of you with bigger hands may find this brush a little awkward to grip. But it does look very smart.
If you are used to electric brushes having bulky handles, the Pulsonic has an air of elegance and simplicity. I like the way it looks. Along with the thin profile it also has a remarkably light weight. Again, this is especially good if you have a wrist problem, but it also makes it easier for everyone to brush for longer periods of time, like the 5 minutes that I recommend.

With a small handle, slim profile and light weight, you might expect a low-capacity battery. You'd be wrong! Battery life is 14 days of normal use on a single full charge. This is excellent if you are traveling, as it means you don't need to take the charger with you for trips under 14 days. However, do be aware that a full charge can take 15 hours.
There is one negative amongst all this good news - the Pulsonic is quite loud - it buzzes away like an angry bee! It is quite a bit louder than almost all other sonic toothbrushes, and it is A LOT louder than the Philips Sonicare DiamondClean.

Whether this bothers you or not is really a personal matter. I find that it doesn't annoy me at all, but it might put some folk off buying this brush.
This Oral B sonic toothbrush offers 2 brushing modes, Normal and Sensitive. If you like to have a choice of brushing programs, the Pulsonic might seem a bit limited in this respect. However, simplicity is what this brush is all about. That is what makes the minimal size and the relatively low price possible. The bigger 4500 version has a third brushing mode, "massage".
The huge plus point for this brush is the price. You can get it for around EUR 70, which makes it the cheapest rechargeable sonic tooth brush that I am aware of. For that price, it comes with two brush heads and a slim-line charging unit.

You will need to get the correct Oral B replacement brushes for the Pulsonic. Only the special Pulsonic heads will fit. Oral-B Pulsonic replacement brush heads.

So, the Oral B sonic toothbrush, the Pulsonic Slim 2000 or 4500 is a lightweight in some ways, but it punches above its weight in the important areas. It removes plaque and staining very well and it feels like it is well-made. If you don't mind the loud buzzing, only 2 programs and you have smaller hands, this could be the best electric toothbrush for you, especially at the price!
---
---