About Me

Dental Advice For Patients

My name is Dr. Richard Mitchell, and this page is ABOUT ME. I'm trying to help people get truthful and safe information about their teeth. I'm concerned about some of the inaccurate information that is being published online about dental issues.
My qualification?  I have a university degree in Dental Surgery from the University of Manchester, England, which was awarded in December 1979 – I have over 40 years of experience in dentistry, in six countries around the world.

Dr Richard Mitchell BDS
I am registered with the Dental Council of New Zealand, and I have been working in Blenheim, in the region of Marlborough. This is on the North-east tip of the South Island, with the highest number of sunshine hours in New Zealand.

I am a Validated Dental Expert at JustAnswer, where I can answer any questions on dental issues. If you have an urgent issue you want to discuss with a dental expert, just click on the JustAnswer link above!
I am also a Mentor at Career ReDo, a service helping people thinking about changing career, where I can help anyone looking at becoming a dentist.

Quite a lot of dental articles on the internet are written by people with little or no dental training.  I was surprised to find that out. You have to wonder where they get their information from.

Needless to say, most of them repeat the same old wives' tales and myths about teeth and about dental issues in general. For most folks out there, it can be hard to figure out what's true and what is false, and possibly dangerous.
Not here!  As a dentist, I tell you the truth based on up-to-date scientific research and current teaching.
On this website, everything you read will be the truth. I am NOT influenced by insurance companies, nor what treatment I can "sell" you. I am totally independent. Although I may make certain recommendations about toothbrushes or other dental products, that is not the reason why I started this website back in 2010.
All I care about is giving safe, honest, factual information in a way that is easy to understand. I want to give everyone out there the power to understand what is going on in their mouths, and enough knowledge to ask the RIGHT questions of their dentist.
About Me

I'm originally a British dentist, with 40 years experience in dental practice. I graduated in December 1979, and I don't know where the last 40 years went!
Maybe time has flown because I really enjoy my job, and have always wanted to travel, to see what it's like to work in different countries. Since I graduated, I've been lucky enough to live and work in six countries. Time flies when you're having fun.

Dr. Richard at work
I started in the United Kingdom.
After I graduated from the University of Manchester with a degree in Dental Surgery, I worked at Manchester Dental Hospital as a House Officer, dealing with dental emergencies and oral surgery.
Then I made the switch to general dental practice. This was very different to life in the Dental Hospital, and I learned a lot from my colleagues in the dental office. But after a few years, I wanted to see what life was like outside the U.K.!
So I moved to Barbados, and I worked in private practice. This was my first experience of a healthcare system in another country. It was very different to the U.K., and I realized that the quality of the dental treatment you receive often depends on how that treatment is paid for. This was the start of my realization that in medicine and dentistry, you DO NOT necessarily get the best treatment available.
I used to feel really sorry for patients who could not afford the treatment they really needed, and I ended up doing a lot of work at discounted rates to help them out!
After working as an employee for five years, I wanted to run my own business. I wanted to be in charge, and do things my way. I wanted to make a difference to how people feel about dentists, and help them get the treatment they really need, NOT just what they could afford.  An opportunity came up in Nuremberg, Germany, so I moved there in 1985, and I spent the next 10 years in general dental practice.
This was a fun time. I learned a lot by attending many courses in Germany and Switzerland, earning further education certificates, especially in cosmetic dentistry and tooth whitening. I loved improving people's smiles in simple, easy and conservative ways!
At that time, I also became a member of the American Academy of Cosmetic Dentistry, and I had access to the Academy's education facilities.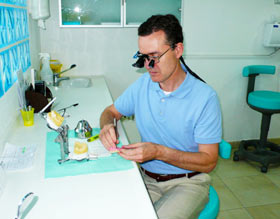 Working in my office
Then I set my sights further afield, and in 1994 I moved to Australia. Another country and another system of healthcare. I lived just outside Brisbane, and I worked in several dental offices.
About Me - Dental Advice.info
I started out in Australia as a Crown and Bridge specialist at Queensland Teacher's Union Health Center in central Brisbane. I was responsible for providing the best treatment available using crowns and bridges, and also dental veneers.
It was in Australia that I really discovered 'State of the Art'  dentistry. I attended lots of courses from visiting American professors and experts; this was an eye-opening time for me.
This is where I learned how to give a totally painless shot; how to use bonding techniques that last; how to deal with molar root canals; and most of all, how to work out what a patient REALLY wants, even if they can't put it into words themselves.
Eventually, though, I missed certain things 'European'. So after 7 years in the sun I looked for somewhere in Europe with a warm climate ...

...and moved to Spain. That was a great move at the time – it's the "Florida of Europe"!
I ran my own office full-time on the Costa Blanca for 10 years, from 2008 to 2018, taking care of the everyday dental needs of British expats living on the coast. I switched to working part-time in 2019, and moved to New Zealand in 2021 where I worked in Blenheim, South Island. I moved back to Spain in June 2022.

It became my mission to make people feel better about their dental experiences.  I always remembered the words of Maya Angelou: "People will forget what you say, and they will forget what you do, but they will never forget how you make them feel."
About Me - Dental Advice.info

Over the years I have seen a lot of dental myths and bad information, both in print and on the internet. I want to do something about that, and so I've been writing this website since 2010 to give safe, honest and realistic information. It's not supposed to be a full and complete guide to everything in dentistry.

INSTEAD, I am writing about the things that my real life patients ask me about. So the topics I cover may look a little random, but hopefully they will help the greatest number of people.

On a personal note, I enjoy outdoor sports such as running, swimming and taking part in triathlons. I have completed 7 full marathons and numerous other races, and I write and maintain a website on the new sport of Swimrun HERE.
May 2023

---
---