Diseases Of
The Tongue

I see a lot of diseases of the tongue or tongue diseases as a dentist in general practice. Some are relatively uncommon, but others are almost a daily occurrence. Some tongue conditions can be very important, even life-threatening.

When you have a problem with your tongue, you suddenly realize how much we all tend to ignore our tongues from day to day. If you've noticed something different about your tongue, it can be very difficult to forget about it!

But sometimes we try to ignore a small ulcer or a tender spot where a denture is rubbing a bit.

THIS IS WRONG.

You should ALWAYS get it checked if you notice something different about your tongue, under your tongue, or for that matter anywhere in your mouth.

What Diseases of the
TONGUE are there?

There are quite a few diseases of the tongue, some of them with rather odd-sounding names, but all of them can be annoying, and one or two can be very important.

Here's a run-down of the more common disorders; just click on the blue title to read more!

You just can't avoid your tongue touching your front teeth and rubbing on any little uneven surfaces! I get these from time to time, and I know from personal experience how annoying it can be. Usually, it settles down within 2 to 3 days. If it takes any longer than a week, get your dentist to check it.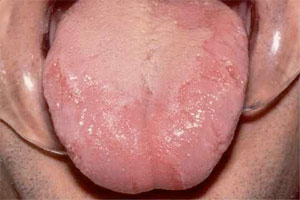 a coated tongue
Diseases Of
The Tongue

Black Hairy Tongue
tongue cancer
Most tongue cancers occur on the side of the tongue, but they can crop up almost anywhere around the tongue, as in the photo above, where it is UNDER the tongue. There are several more photographs of different types and positions of tongue cancer at tongue cancer pictures.


If you are worried about the possibility of mouth cancer, you can read more about the symptoms at Mouth Cancer Symptoms.
But be warned - there are some shocking photos of mouth cancer that was ignored for several years, allowing it to grow to a horrific size.

As you can see, there are quite a few conditions that can affect the tongue. Most are harmless but annoying. The real importance of tongue problems or tongue diseases is that you want to make sure it's not anything more serious. Which it isn't in 99% of cases!

So, to minimize the risks of your tongue problems turning into something nasty, ALWAYS get that bump, white patch or ulcer checked as soon as possible. Definitely within 10 days of first noticing it, if it hasn't settled. Sooner is better!
---
---